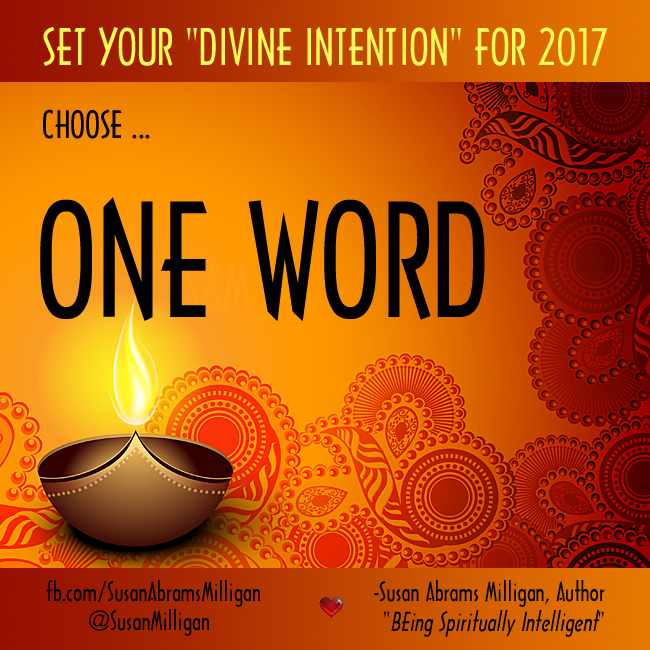 It's that time of year when we reflect on the previous year, and create personal intentions of what we want to create the coming year. Choose one word that best describes what you want to create. Just one word. I know it's tempting to what to choose a phrase, but trust me, it will serve you more fully when you narrow it down to one word.

Why choose "one" word? Most people create a long list of resolutions and never stick with it. Within a few months their list is forgotten. However, choosing one word and incorporating it into our every day life in ALL areas of our life over a full year, works incredibly well for many. If "intention" doesn't feel right to you, then consider it a theme you will follow throughout the year. I honestly cannot remember where I heard about this personal challenge (likely a book from the mid 90s), but I've done it every year since that time.
Remember the mantra, "How you do anything is how you do everything." This is a quote from one of my leadership mentors, the late Brian Klemmer. And the word I've chosen over the years has interestingly played a significant role in many areas of my life: mind, body, spirit, emotion, relationships, family, friends, finances, etc.
For example, my word in 2011 was 'move'. What this means to me and how it covered many areas in my life: Move my body, move my mind, move forward on personal goals, move into and beyond my dreams, move out things not working, move relationships closer, move projects to completion, move closer to God/source, and move to a warmer climate.
To learn more about the process, and see a list of my one-word Divine Intentions from back into the mid 90s (perhaps to spark something within you), see my post from 2015:
http://www.susanabramsmilligan.com/set-divine-intention-2015/
I had my 2017 one word theme (aka Divine Intention) narrowed down to two separate words for several months. However, I began to realize when I took a step back and looked at it from a wider perspective that one of the words would be more appropriate and achievable within all areas of my life in 2018. So be realistic when you choose your world. You want to set yourself up for success by stretching yourself a bit so you will personally evolve, but not over do it and sabotage yourself before you even get started. A confused mind does nothing. I now know my one word theme for 2017, and will be posting it after Christmas. I'm excited to share it with you, and step into it's magnificence.
Happy Holidays everyone! Thank you for your continued friendship, connections, authentic conversations and BEing part of my life over the years. ♥
Update 12/31/16: My 2017 word is "blossom".